"Hello, space fans! We're coming to you live from beautiful Cape Canaveral for the Hersheys® Manned Mission to Mars! I'm Brent Costas; with me is former astronaut Jim 'Cool Hand' Brandenmeyer. Cool Hand?"
"Hey, Brent! Everything is looking great for today's launch. We all remember the disappointment NASA suffered two years ago, when the planetary alignment didn't occur during a Sweeps Month, so you can bet they're anxious to get underway today! Let's check the McDonald's® Mission Summary: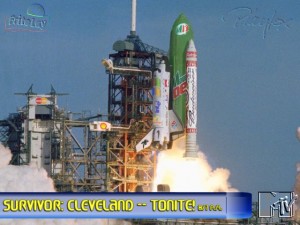 "The Hanes Wonderbra® liftoff is scheduled for 8:24 a.m., with the NAPA Auto Parts® Main Engine Cut-Off at 8:33 and the Tampon® orbit insertion at 8:37. In two days, the spacecraft will rendezvous and dock with the Domino's® Mars Express transfer vehicle. Remember, Domino's® gets you there in 30 weeks or the mission's free!"
"Ha ha! Thanks, Cool Hand. Here's a live shot of the vehicle, and she looks great painted with the Windows® logo and the external tank decked out in the likeness of a giant Mountain Dew® can."
"She sure does, Brent–especially with those red-and-white Budweiser® strap-ons!"
"Indeed! Looks like we are 'Go' for launch! We have main engine start and–liftoff! Let's go to our pad correspondent Britney Boufay."
"Hi, guys! Lift-off was A-okay! All systems looking great! This liftoff summary brought to you by Viagra®–When failure is not an option!®"
"Thanks, Brit. We're coming up on staging–and there they go! A clean separation of that Budweiser® solid-rocket twin-pack! Cool Hand?"
"Fantastic! And Budweiser® wants to remind all you young pilots, don't drink and fly!"
"Good advice! The flight is going perfectly. This is a good time to remind our viewers to watch Survivor: Cleveland® tonight at eight p.m. Eastern, seven Central. Okay, we have MECO! And here's a live shot of the external tank separation, brought to us by Horowitz and Brown divorce attorneys. Cool Hand?"
"Outstanding! You can even make out the mission motto, painted under the Mountain Dew® logo: 'Mars–Just Dew It!®'"
"Right you are! It looks like the Frito-Lay® Orbital Maneuver Engines have finished firing so let's check in with Britney for our Monistat® post-insertion update."
"Hi, guys! Today's insertion was, in NASA lingo, 'perfect'! Back to you!"
"Thanks, Brit. Well viewers, that's it from Gatorade's® Kennedy Space Center. Be sure to tune in Thursday for the Rogaine® Rendezvous and Docking followed by the Trojan® Trans-Mars Insertion. Afterwards, stay tuned for a brand new episode of Who Wants to Marry Joe Astronaut?®
"From Cape Canaveral, this is Brent Costas–"
"–and Jim 'Cool Hand' Brandenmeyer–"
"–saying good bye and God speed!"
---
I just attended my second Worldcon: the annual gathering of science fiction and fantasy geekionados from around the world. It gave me a chance to energize my writing capacitors, finally get out of Seattle and into some warm weather, and, in a couple of cases, renew old friendships. The underwear thing was just a bonus.
My friend Kyle and I arrived after a grueling, but beautiful, 14-hour drive through four states. Since Kyle is an I.T. expert and I'm a "rocket scientist," plus we had two GPS systems, we got lost only a couple of times, finally rolling into Reno, NV late Thursday night.
Day 1: Lines and buyers and bras, oh my!
Friday morning, we hit the beautiful Atlantis casino and hotel to start our Worldcon experience. If you've never attended a science fiction convention, they're a blend of discussion panels, dealer rooms, art shows, and people wearing costumes ranging from accurate movie reproductions to outfits that would have gotten you thrown out of Sodom or Gommorah.
I hit panels on Understanding Publication ("Always read your final contract!"), Social Media ("Facebook is the high fructose corn syrup of social media"–Cory Doctorow), and The Solar System and SF, where I re-united with author Allen Steele. (At Worldcon 54 in Los Angeles, Allen critiqued one of my short stories with the words, "Gird your loins…" Despite everything he said over the next few minutes, he seemed to think there was some hope for me and took me under his Hugo-winning wing. He introduced me to Gregory Benford, David Brin, and others, stunning me by saying, with a perfectly straight face, "In a few years, he may be on the Hugo stage with us"–an observation that demonstrates why Allen is so successful at writing fiction.)
I also attended the Many Sides of Hard Science Fiction, where I got into a bit of a debate with panelists who believe science fiction has an obligation to depress our youth into Prozac addiction. I disagreed, stating that SF should occasionally inspire people to achieve a better world–and entertain them in the process. I'm not sure I changed any minds, but I did get a chance to talk to Toni Weisskopf of Baen Books who offered to read the first chapters of my recently-completed hard SF novel, Miner Misfortunes.
Finally, I hit the Space Opera panel, to be reunited with another friend from the 90′s convention scene, Lizzy Shannon, who is now a published novelist, whereas I am not. That's fine. Really. I'm happy for her. I am.
I then walked through the Dealer's Room and Art Show exhibits, which featured lots of cool stuff to buy with my dwindling resources. Nearby, a girl stood around in her underwear while guys attempted to draw her. I'm not sure what that had to do with Science Fiction, but I guess it does kinda fall in the Fantasy category. While there, a flashmob celebration broke out to support author Jay Lake in his battle against cancer. Although it was dubbed "World Jay Day," another attendee suggested a better moniker might have been "Jay Pride Day." I got to re-unite with another writing acquaintance, Patrick Swenson, publisher/editor of Fairwood Press.
Friday night, Kyle and I attended the Masquerade (i.e., the costume contest) which featured many amazing outfits and a spectacular wardrobe malfunction. (Sorry, no pictures.) For laughtime entertainment, we witnessed the SF version of the British Game Show Just a Minute, hosted by the very funny Paul Cornell. Contestants must speak for a full minute "without hesitation, deviation, or repetition" on a variety of topics. Contestants were John Dowd, Lauren Beukes, Bill Willingham, and winner Seanan McGuire.
Afterwards, I got to stuff myself into the Science Fiction Writers of America (SWFA) suite and chat with my friend, Nebula-award winner Jerry Oltion and his lovely wife, Kathy, where we discussed the joys and hazards of writing, space flight, and SF conventions. Jerry and I once served on the same panel, "Dude, Where's My Flying Car"–and we're still wondering. It would have beat the hell out of a 14-hour drive in a Honda Civic.
Day 2: Things go from good to better
Saturday was a day to enjoy the convention, rather than sniff after agents and editors. I hit an enjoyable and informative panel on the Craft of Writing Short Fiction, with Connie Willis and Jay Lake, and a panel called A Glimpse at Underwear in Speculative Literature and Film (really). This included some of my favorite clips from some of my favorite films (e.g., Sigourney Weaver crawling into her spacesuit in Alien). Another highlight was a lovely young lady in attendance who wore a skirt that is illegal in most southern States. (Again sorry, no picture. I mean, really sorry.)
I bought a copy of my friend Lizzy's book, Time Twist, at the dealer room, as well as presents for my wife and kids, then we headed over to the Hugo Awards, hosted by Jay Lake and Ken Scholes, who consistently worried us with threats of musical performances. (A threat they eventually made good on, but it wasn't as painful as expected.)
I won't list the Hugo winners, with one exception, since you can see them here or watch the video. The highlights of the evening (for me) were Robert Silverberg's painfully hilarious introduction for the Best Novella award and my friend Allen Steele's win for Best Novelette for his superb story, "The Emperor of Mars." I've attended two Worldcons, and Allen's won Hugos at both; therefore, I like to think I'm a good-luck charm. Of course, I like to think a lot of things.
The night was capped when I ran into Allen afterwards and we had a delightful talk about writing, working at NASA, and the joys of trying to carry a bomb-shaped metal award onto an airliner.
Another short night's sleep, and an uneventful 14-hour drive home, made possible by the fine folks in the pharmaceutical industry.
Next?
Next year's Worldcon is in Chicago, not far from my home crib in Indiana. If I go, I hope it'll be as a SFWA member, rather than a hanger-on. And if Allen's nominated again, maybe I'll find out if I really am his good luck charm.
Meanwhile, back to finishing revision 3 of Miner and getting it into submission. Maybe if the cover features a girl in her underwear . . .
(Addendum: my complete set of Worldcon/Hugo pix can be found here.)
I just survived a week at Disneyland ("The Crowdedest Place on Earth!"). Although I've been to the various Disney parks on many occasions, this time something had changed:
Pirates have conquered the Magic Kingdom.
I first noticed this while walking down Main Street. In lieu of mouse ears or fairy wings, kids now stalked the grounds wearing cutlasses and eye patches. I know pirates have always been one of the popular themes at Disney, due to their famous "Pirates of the Caribbean" ride. But with the overwhelming popularity of the recent movie series, it's clear that Mickey and the other traditional characters have one foot, paw, or wing in the unemployment line.
The "Pirates" ride itself, formerly a rambunctious romp to the hearty strains of "Yo ho, yo ho, a pirate's life for me!" is now a paean to drug-addled gay pirate Jack Sparrow. While one can understand Disney's cashing in on the popularity of the movies and updating the ride to form a closer tie-in, what is not so clear is why the Disney overlords also decided to change Tom Sawyer's Island to The Pirates' Lair. Perhaps midwestern Tom was too Americana for California. Or perhaps they were attracted to another tie-in, with those lovable Somali scalawags that have been in the news of late. Sure, throughout history pirates have been murderous thieves and rapists, but that's better than associating the Disney label with some middle-America kid from a red state with his capitalist, white-washing notions. To hammer this in further, they even have Tom's grave on the island! (I couldn't find the marker for the spot where the pirates no doubt brutally raped and murdered Becky Thatcher, but maybe I just missed it.)
So there we have it. Kids are turning aside from Tinkerbell face paint in favor of Jack Sparrow bandanas and heavy eyeliner. Mickey Mouse ears have been replaced with bloodstained swords, and the Jolly Roger will soon be fluttering over Sleeping Beauty's Castle.
But I, for one, miss good ol' Tom. Rest in peace, lad. Maybe Disney will make a series of blockbuster movies about your adventures some day, and you'll be allowed back in your old haunts. Or maybe the Disney executives will realize that Mark Twain's all-American boy deserves better homage than the most villainous scum of the earth, and they'll put family values over greedy corporate profit.
But probably not.
On September 17th, 1787, the delegates to the Constitutional Convention signed the U.S. Constitution, forever changing the shape of world politics.
The Constitution was brilliant in its simplicity. For perhaps the first time in human history, a major government was formed under the principle of preexisting human rights. Rather than defining the rights of the people and reserving all other power to the government, the Constitution did the opposite: it enumerated the powers of the government and reserved all other rights to the people.
In recent decades that document, which defines the United States of America, has come under unrelenting attack by those who find it an encumbrance to their political aims.  Politicians, scholars, and pundits refer to the Constitution as a "living document."  Ironically, the Constitution was conceived and born a living document. It is they who use that term who have killed it.
Our founding fathers recognized that conditions in American society would change, and they crafted the Constitution so that it, too, could be changed in accordance with the will of the people. To imbue the federal government with powers beyond those originally defined, the Constitution could be amended, requiring a two-thirds vote of both chambers of Congress and ratification by three-fourths of the States. Thus, federal power is expanded by the consent of the governed. Does this process make it easy for the government to acquire more power? No. And that was exactly the point.
Some feared even that process. They worried that the government could, in the future, convince the American people to give up their sacred rights. Led by Thomas Jefferson, these founders insisted that certain precious liberties be set aside in a "Bill of Rights" that would exempt those rights from ever being amended out of the Constitution. In other words, the American people could never abrogate their right to freedom of speech, religious expression, to keep and bear arms, etc. That was the original definition of a "Constitutionally protected right": not a right that is granted to us by the Constitution, but rather a pre-existing right that could never be taken away by the Constitution. Hence the use of terms like, "Congress shall make no law…" or "the right of the people shall not be infringed."
The Federalists, led by Alexander Hamilton, disagreed. They argued that those sacred rights could never be taken away anyway, since the Constitution did not grant the government the power to do so, and that the American people would never be duped into allowing such amendments. In fact, Hamilton argued that adding a "Bill of Rights" would endanger liberty–that future governments would claim that the Bill defined our rights, and that anything that wasn't included was fair game. He feared a future where the government passed any law they saw fit unless the Bill of Rights specifically and unequivocally "protected" against it. As he argued in the Federalist Papers (#84): "it is evident that [the Bill of Rights] would furnish, to men disposed to usurp, a plausible pretence for claiming that power."
Sound familiar?
And even the Bill of Rights no longer defines, unequivocally, our "rights." The government has decided (and the Supreme Court concurs) that it can decide when the Bill of Rights itself applies. So we have an American society where certain types of material cannot be read in our own homes, where the right to defend ourselves is assailed based on a comma missing from a draft of the Constitution, and where a citizen's home and belongings can be seized and sold without the owner ever being charged with, much less convicted of, a crime.
The Supreme Court was to be the arbiter, the last bastion of protection for the American people from government usurpation of power. And this is the Constitution's great failing. The Court members are nominated and confirmed by the very officials who take such power as their own. And thus we have Courts that allow laws to stand because they are "good ideas," regardless of the non-existence of the constitutional authority to pass them. And they justify this murdering of our constitutional process with the euphemism, "living document." Our latest Supreme Court nominee, Elena Kagan, said herself: "you should not want me to act in any way on the basis of such a belief [that individual rights pre-exist the Constitution]." In other words, the government does not get its power from the inalienable rights of the people; the people are granted their rights by those who rule over them.
Life implies change. Every plant, animal, microbe can adapt to its environment. Evolution is the defining element of any living object. Including the U.S. Constitution.
So what has happened to our "living document"? In recent decades the federal government, with the collusion of the Supreme Court, have bypassed the constitutional process of government. In the past sixty years, only one significant change to the Constitution was passed–in 1971, lowering the voting age to 18. None of the expansions of federal power in the last century has been through the amendment process–requiring the consent of the governed–created by our founders.
How would such a process work in practice? After all, the federal government needs new authority to deal with modern situations.
Recently, the government has dictated what kind of light bulb we use to read to our children, what kind of car we drive, what type of shower head we may bathe under, even what type of toilet we sit on. Instead, they could have followed the law and asked us to amend the Constitution as follows:
"Congress shall make such laws as necessary to protect the environment."
This amendment would be debated in the House of Representatives and the Senate, between the elected representatives of both parties, in full public view, and a compromise worked out. This compromise amendment would then be sent to the fifty States who would vote for ratification, either through the elected State representatives, or by the direct vote of the people. All sides would be heard, debate would rage (as it should in a free society), and the people would decide.
In short, the feds would come to "we the people," make their case, and ask, "May we have this additional power over you?" And we would decide. That is the meaning of consent of the governed, not "You elected me, so you gave me your consent to do whatever the hell I want, regardless what that moth-eaten old document says."
The amendment process as defined by our Constitution has been utterly ignored for decades, and most often by those who intone the words "living document." But by refusing to follow the rules set forth in that document, which allow it to evolve for our changing society, they have in fact stolen its life. The Constitution of the United States now lies in state, dead and unchanging, while the carrion fowl in power invoke its name while picking at its flesh.
So let us take a moment of silence to pay respect to the greatest legal document ever written, taken from us long before its time.